We provide one-on-one tutoring for most Macintosh hardware and software products, including Macintosh operation (both OS X and Classic), Mail, Dashboard, Address Book, Safari, iPhoto, iMovie, iDVD, iChat, AirPort use and configuration, and more.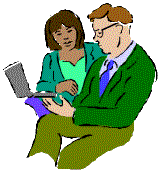 Learn how to use the web, manage spam, Google effectively, control multiple mail accounts, define users, encrypt sensitive data, buy and sell on eBay, manage your home network, use PayPal, create and update websites, and dozens of other techniques.
Also available is tutoring in Microsoft Office tools (Word, Excel, PowerPoint), and third-party software such as Firefox, Photoshop, Freehand, backup software, and others.
If you don't see it listed here, ask.